Easy to apply, easy to order!
You're required to have boat registration number stickers. They need to be compliant with state regulations (and almost ALL states have the same requirements.) You want them to look great on your boat, and be easy to apply. Get yourself some great boat registration numbers: We make boat registration decals for every US state and territory. You can search boat registration decals for states (and see your state requirements) here.
boatregistrationstickers.com is your easy, online source for boat registration number and watercraft registration stickers for your boat or watercraft. They are EASY to apply, all on one sticker and are marine-grade cut vinyl, and are positioned all together with the correct spacing on a piece of transfer paper that makes it easy to apply to your boat in under a minute! ONE sticker, EASY to apply.
We offer boat registration numbers for Michigan, Illinois, Indiana, Ohio, California, New York, Texas, South Carolina and Florida and ANY state that requires a watercraft registration number.  When you order on the order form, just indicate your full boat registration number starting with your state code (e.g. FL, IL, TX, SC) and then your numbers. It's that easy!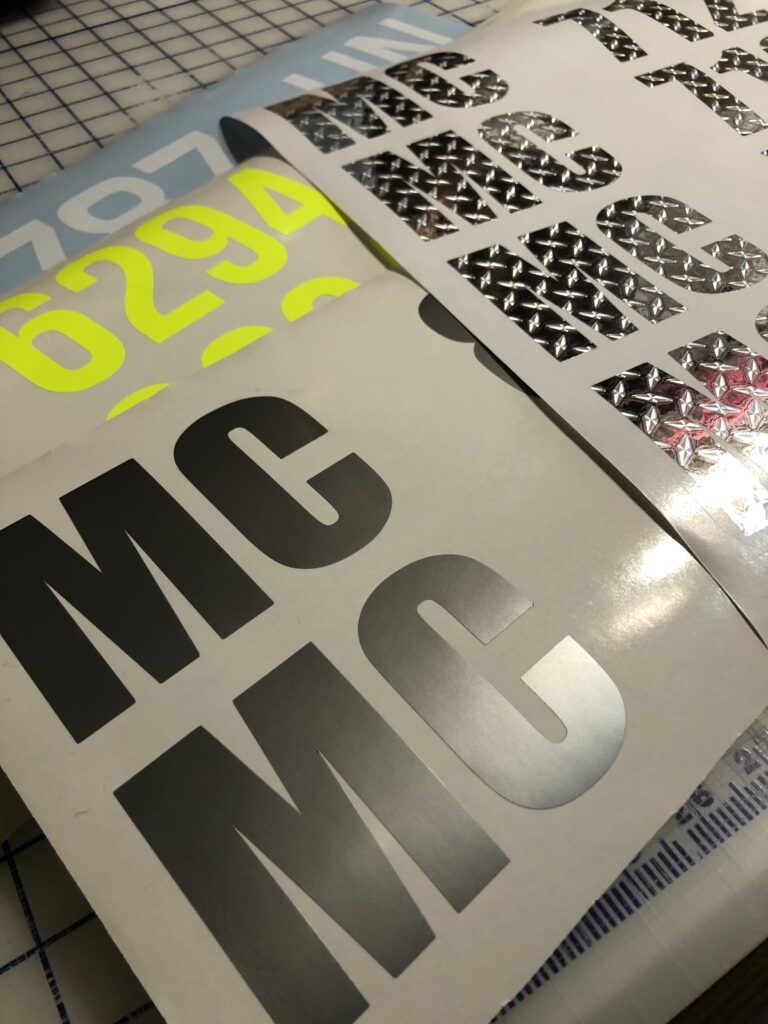 Once you've registered your boat with your state, you'll be issued your state watercraft registration number and annual (or multi-year) decal. Use the number you receive from the state to order custom boat registration stickers from boatregistrationstickers.com to place on your boat.
Starting at only $16.95 per set – one for each side of your hull – (plus $1.95 shipping and applicable sales tax), why drive to the hardware store, and attempt to line up difficult to apply individual numbers, or finding that they're out of the number or letter you need for your boat registration numbers? These boat registration number stickers are 3″ tall, block letters, single color and comply with all state watercraft registration requirements. YOU GET TWO with each order, one for each side of your hull.
Your custom boat registration stickers will arrive ready to install. They're on a single piece of transfer paper and easy to apply to your boat's hull. We offer 10 standard colors, 8 fonts (type style), and four specialty metallic foil that are outdoor vinyl. We have two videos shown here for both the standard (dry) transfer method and the optional (wet) method. Either one will work for your boat, the wet method allows for moveable positioning but can be trickier. In either case, your boat numbers will be on your hull in under two minutes!
We make it easy to order boat registration number stickers! Click to Order Boat Registration Stickers
How to apply boat registration stickers FAST and EASY (one of two methods)
In our video above, we show how to apply the single-sheet boat registration stickers to your boat in under one minute. In the video, we show how to peel the backing from the sticker, apply the sticker, buff it on and then peel the transfer paper off the top. These cut vinyl boat registration number stickers go on fast and easy with the appropriate spacing to comply with your state regulations. You can order the boat registration number decals in colors and fonts to coordinate with your hull – and everything we offer is compliant with boat registration regulations.
More from our blog:
Boat Registration Stickers – everything you need to know about adding boat registration stickers to your boat, from selecting a typeface, color and applying boat registration stickers to your boat. First, most states and territories REQUIRE 3″ block letters for boat registration stickers and 100% of states require boats with …

---

Buying boat registration decals is easy! You have several choices. First, make sure your boat is registered with your state – usually this is the Secretary of State, Department of Motor Vehicles (DMV), Fish & Wildlife organization. They will give you a yearly registration sticker and YOU as the boat …

---

Registration numbers must be displayed on a boat on the forward 1/3 of the hull. Almost all states and US territories like the US Virgin Islands and Puerto Rico require boat registration numbers to be displayed on the bow. They are usually a combination of two letters (a state code), …

---