Summary
How to order and apply boat registration numbers stickers to your boat.
Boat Registration Stickers – everything you need to know about adding boat registration stickers to your boat, from selecting a typeface, color and applying boat registration stickers to your boat.
First, most states and territories REQUIRE 3″ block letters for boat registration stickers and 100% of states require boats with engines of any size (including kayaks with trolling electric motors) to have boat registration stickers displayed on the bow of the boat. Once you've registered your boat (and here is our list of states and their requirements with links to their state authority), you can order your boat registration stickers. Some boaters use hardware or boat store numbers, but those are hard to apply, to line up and offer little in the way of color choice and zero typeface choices. Plus, they are all individual stickers, which are hard and time consuming to apply! Ours are all one sticker, prepared just for you and your boat!
Once you've ordered your boat registration stickers from us, they take about a week or so to arrive. We produce YOUR boat numbers, in YOUR typeface and selected color, just for you! We do them every 2 days Monday thru Friday. We ship them USPS first class mail, so they are affordable to ship to your home or workplace.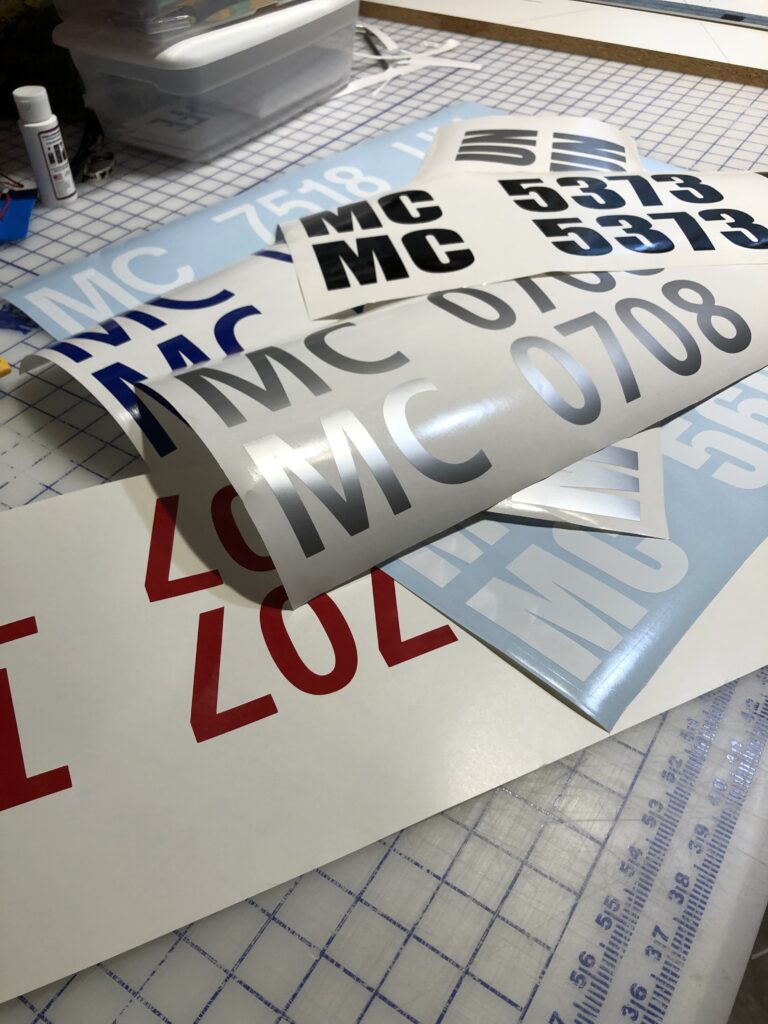 What typeface do I choose? You have a choice of ten of them from our website, and you can see examples in the little photos under the big one. Just click on the image with the typeface to see examples. No, it's not dynamic, it won't show you YOUR boat numbers in that font, just example ones.
Next, choose a color of vinyl – you have ten colors here too, and you want a good contrast between the numbers and the boat. If your hull is white, you can choose anything BUT white and yellow and silver carbon fiber, if your hull is dark you can choose almost anything BUT black, Storm (navy) blue or dark carbon fiber.
Once your numbers are shipped, we mark them shipped and our system sends you an email. Be on the lookout 2-10 days after that email. Why 10 days? Well, if you live in a remote area and your main postal transfer station is slower to get them processed, they need a little extra time to get it to you.
Once your numbers arrive, use our Installation Instructions video and guide here at our sister site, Michigan MC Numbers.com. Michigan, our home state, like yours, wants those numbers near the bow of your boat on each side. Follow the video for how to apply them to the boat.
The numbers will peel off the transfer paper (the top paper is stickier than the bottom), once burnished or pressed onto your hull, the transfer paper will peel off the top. Go slowly and take your time. Once on the boat, they'll stay attached, no matter what type of water you're in (salt, fresh, brackish) or what type of boat you have. Kayaks are the exception – roto molded plastic hulls require a more permanent solution, and for that we offer boat registration stencils – similar to our stickers, only the "holes" are the numbers of YOUR boat and you apply the stencil, paint with plastic suitable paint and you're good to go.
You do NOT have to replace your numbers. They get sold with the boat and your new boat gets new numbers (or has them already.) The numbers stay with the boat. Now, if you want to for aesthetic reasons – for instance, you add a boat name sticker in bright red and want your numbers also to be bright red, you can do that! Use a hair dryer to warm up the vinyl to peel it easier, and use a solvent like acetone to prep the surface before re applying.